Brickhouse Road
By Norm Budnitz and Will Cook
Overview: Perhaps the best-loved birding spot near Falls Lake, renowned for having large numbers of sparrows and hawks, this section of the Butner Game Lands is basically a peninsula of land that lies between the Flat River on the west and Knap of Reeds Creek section of Falls Lake on the east. The Eno River joins the Flat to become the Neuse River just southwest of the tip of the peninsula, and it is at this point that the Neuse first widens to become Falls Lake. As a result, in times of high water, Knap of Reeds is a wide shallow pool of water, while in times of low water that same area is an extensive mud/sand flat. Unfortunately, given the vicissitudes of flood control, neither of these situations produces much in the way of bird life (cormorants and herons or Killdeer and the odd anipe).
The peninsula itself, however, is made up of a variety of habitats-swamps, ponds, river bottom forests, and extensive fields with hedgerows-that harbor many bird species throughout the year. Raptors include all the usual NC resident species, plus some of the more unusual species like Bald Eagles, Northern Harriers, and Mississippi Kites are also possible. In winter, this area abounds with sparrows. White-crowneds are reliable here, and a Harris's Sparrow showed up one spring. The swampy areas are good for woodpeckers and warblers. Rare sightings have included an Anhinga, both Least and American Bitterns, the above-mentioned kites, and Harris's Sparrow. The nearby Flat River Impoundment is well worth checking out - it hasn't been birded as much, but it has similar numbers of sparrows and hawks and the potential for rarities.
One important caveat for birders: This is a gameland that has been established and is managed for hunters. It is therefore advisable to restrict birding activities to Sundays during hunting seasons.
The description that follows is based on my particular preferences in this area. These preferences reflect my own routine, developed in my coverage of this area for the local Christmas and Spring Bird Counts. However, this is really a huge area, and there are many more possibilities to explore here. (See, for example, Will Cook's description of his trek into the heronry.) Please explore other areas and pass on your wisdom.
Getting there: (mileages in parentheses note landmarks or possible other stops):
From the north or east:

0.0

Take Interstate 85 to Exit 182—Red Mill Road.
Go west on Red Mill Rd.

3.8

Right at stop sign on Teknika Parkway (no street sign).

4.0

Left at stop sign on Red Mill Rd (again).

4.6

Right at stop sign on Old Oxford Highway.

(5.6)

Go past Stagville Center.

(7.1)

Cross the Flat River

7.8

Turn right on Brickhouse Road and reset odometer.

From the south or west:

0.0

Take Interstate 85 to Exit 177C—Roxboro Rd (note sign for Stagville Center).
Go north on Roxboro Rd (actually called Roxboro Street at this point).

1.5

Turn right on Old Oxford Highway.

(4.7)

Go past Snowhill Rd (turn left here to go to Penny's Bend on the Eno River).

(5.2)

A small parking area on the left leads to a good birding area along an old railroad bed.

(5.9)

Parking area near power line. Another good birding area along an old road parallel to Old Oxford Highway.

(7.1)

Go past Red Mill Rd.

(9.8)

Cross the Flat River.

10.5

Turn right on Brickhouse Road and reset odometer.

From Old Oxford Highway/Brickhouse Road intersection:

0.0

The intersection.

(0.7)

The last inhabited house (watch for flock of domestic Guinea Fowl).

(1.3)

First small parking area on the left (you will walk to this later).

1.8

Second small parking area on the left. This is the beginning of Loop 1 described below.

2.0

End of drivable road; bigger parking area on the left. This is the beginning for Trail 2 and Loop3.
Where to go: The map has been traced from a satellite photo, so it is to scale. The numbers 1, 2, 3, etc., are ours; there are no numbers posted; nor are there any signs. If you find discrepancies, let us know, and we'll try to fix things.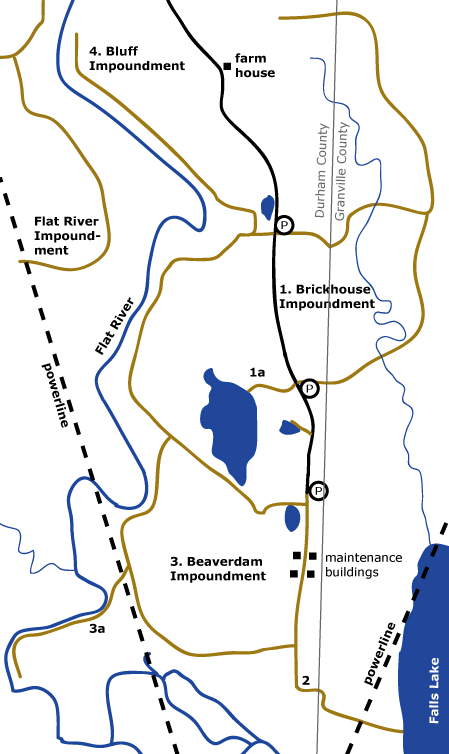 | | |
| --- | --- |
| | |
| 1. Brickhouse Impoundment | 1a. Beaver pond |
Loop 1: Park in the second small parking lot (at 1.8 miles). I like to start this loop at first light in the morning, listening for owls and American Woodcock in the twilight. I usually walk along trail 1a first, to check out the beaver pond/swamp to the west. You may get excellent views of Wood Ducks here. One year I heard both American and Least Bitterns calling here in the spring. Also in spring watch for Orchard and sometimes Baltimore Orioles.
Go back by the parking area, go around the gate, and walk the maintenance road to the east. This road is closed to vehicles, but is excellent for walking. After you pass through a bit of upland forest, the rest of the loop will take you through an extensive area of swamp forest with occasional areas of open water. Prothonotary Warblers abound here. Seven species of woodpeckers are possible, including Pileated and Red-headed. Also watch for Wild Turkeys and migrant warblers in season. After you come back up through the final bit of upland forest at the end of the loop, go around the gate to the main road. (This is the first small parking area at mile 1.3.) Turn left and walk the road, or better, walk the field just to the west of the road. In winter, check out the sparrows that you scare up in the hedgerow; this is a reliable spot for White-crowned Sparrows, mixed in with innumerable White-throats, Juncos, and Songs. Eventually, you will come back to your car.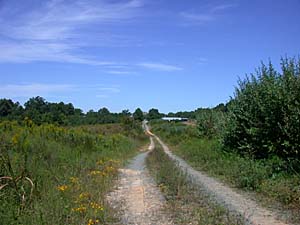 2. The wide-open sky makes for excellent hawk-watching
Trail 2: I usually move my car from the small parking area to the end of the drivable road and park in the larger area on the left. (It's only 0.2 mile, but there's a lot of walking yet to be done, so I don't feel too guilty.) From the parking area, I walk past the gate on the main road and check the small pond on the right for a Kingfisher and the odd duck (Ring-necked, Bufflehead, Pied-billed Grebe). Check the area around the empty house to the right; this is another good place for White-crowned Sparrows. Also check the farm buildings for winter Chipping Sparrows and Purple as well as House Finches.
Continue straight on the main road, checking the hedgerows left and right for White-crowneds and Fox Sparrows. (Note the gated road on your right. You'll come back here for Loop 3). At the far end of the straight stretch, the road curves around to the left. One very cold, rainy, wintry April day, I found a Harris's Sparrow in the small tree on this curve, right where the number 2 is on the map. I keep hoping I'll see another someday. If you follow the road you will go through a small patch of forest, pass under a power line, cross an open field, then continue down a smaller trail through the woods to the edge of Knap of Reeds Creek. Approach cautiously and scope for grebes, cormorants, ducks, Ospreys, the occasional Bald Eagle, and shorebirds and American Pipits if the mudflats are exposed. In the spring, check the forest floor for ephemeral wildflowers, then backtrack to the gated road mentioned earlier.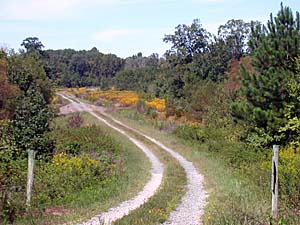 3. Beaverdam Impoundment
Loop 3: This loop will take you through an extensive area of open fields, some dry, some wet. In winter, check through the Song, Field, and White-throated Sparrows to find Swamps, Foxes, and White-crowneds. (And who knows, with all those sparrows you may turn up another Harris's or something even more bizarre.) About halfway through this loop, take the side road (3a) off to the left. This will give you a taste of some bottomland forest along the Flat River, good for American Redstarts in the spring. I once had an Anhinga circle over my head here for about 15 minutes. Backtrack and finish the loop, watching for raptors, including Northern Harriers in winter and Accipiters any time. The loop ends near where you parked your car.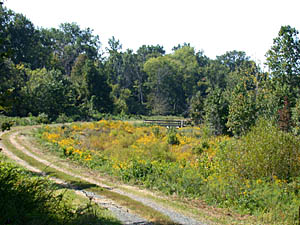 4. Bluff Impoundment
Trail 4: Park at the first small parking lot at 1.3 miles. Walk past the gate on the opposite side of the road and follow the signs to the right for the Bluff Impoundment. This one-way mile-long trail near the Flat River takes you to another extensive area of mostly wet open fields and should be great for sparrows in winter, warblers in migration, and butterflies in summer. If instead you go straight and follow the sign to the Beaverdam Impoundment, you'll connect to loop 3 in a mile or so.
Facilities: None
When to visit: Any time of year, though heat is an issue in the summer. During deer gun season (generally Nov.-Dec.), this area is best avoided except on Sundays.
Revised 12/5/05 cwcook@duke.edu
---
Triangle Birder's Guide home | Chatham/Jordan Lake | Durham/Falls Lake | Orange | Wake